Lincoln City FC's amazing FA Cup run which culminated in a quarter final match against Arsenal at the stunning Emirates Stadium captured imaginations around the world. The non-league side beat Guisley, Altrincham, Oldham, Ipswich, Brighton and Premier League side Burnley to become the first non-league team in 103 years to reach the quarter finals. The team, the managers Danny & Nicky Cowley and the city were suddenly all over the national newspapers and the Burnley result was even in lights in New York's Times Square. I spent quite a bit of time working on the story myself.
I have been involved in The Times 'My sporting body' series from the start having shot some of the athletes and having done the post production work on every sportsperson featured. For the Saturday match day edition against Arsenal I managed to find a Lincoln City player willing to strip naked and be photographed jumping for headers. Striker, Jack Muldoon volunteered. While my assistant (and wife), Sarah hid red-faced in another room, unabashed writer, John Westerby tirelessly fed Jack with a FA Cup 2017 ball. Jack was brilliant. He kicked, headed and performed tricks again and again. Jack is very unusual in professional football by having Type 1 diabetes. He even manages his blood sugar to fit-in with match kick-off times. A real inspiration, here he is as published in The Times.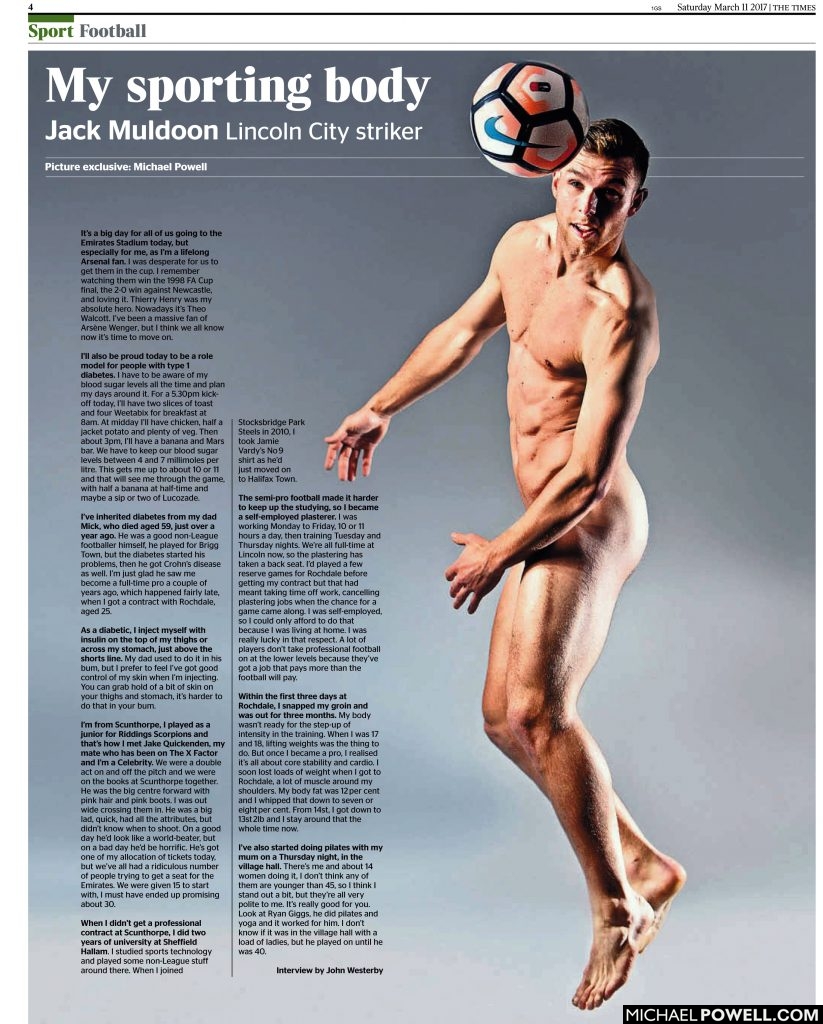 ©Michael Powell 2017 / michaelpowell.com
Straight after photographing Jack was a very rapid portrait shoot with Lincoln City manager Danny Cowley and assistant, Nicky his brother. The media workload suddenly thrust on the managers was huge and despite an over-running TV interview at Sincil Bank and another one to do in London at a West Ham game just a few hours later they still gave me time. My studio equipment from the Jack Muldoon shoot was still set up so I used it for their portraits. They actually ran from the last shot straight to their car to drive to the capital. This shot is a slight nod to David Bailey's iconic portrait of the Kray twins but I didn't have time to change the background lighting to high-key. The one published in The Times was a bit more light-hearted. Two of the nicest guys I've met in football.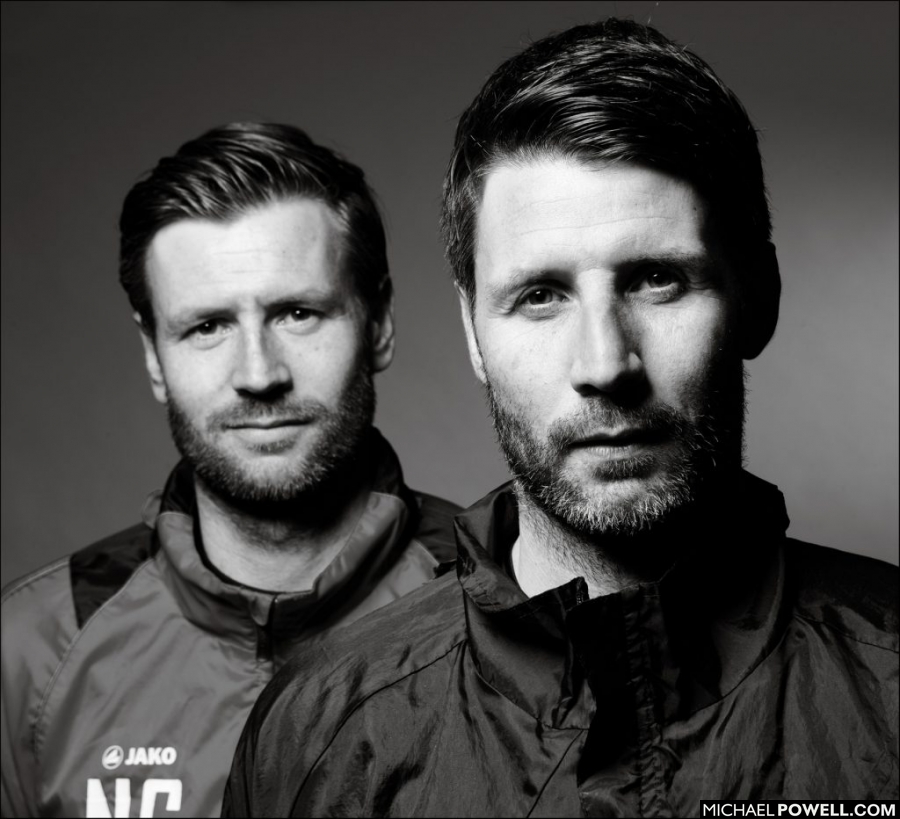 ©Michael Powell 21017 / michaelpowell.com

And now to Matt Alexander. Matt has a lifelong involvement with football as fan, player, agent, scout and executive with Notts County Ladies Football Club. Writer and ex-player Gregor Robertson interviewed Matt for his 'Journeyman' series. We met Matt at Lincoln City where his father, Keith is a legendary figure and frequently acknowledged by the Cowley brothers. Keith Alexander had two spells as manager of Lincoln City taking the team into four play-offs. He was the first black qualified referee in England and the Football League's first full-time professional manager. He also played in the league and internationally for St. Lucia. I had the pleasure of photographing Keith at Sincil Bank for The Times back in 2004 on his return to Lincoln following a brain aneurysm. My idea was to locate the old archive shot and photograph his son Matt at the same spot. Shame the Lincoln Imp gates have been removed. The shots were used together in The Times.


©Michael Powell 2004 / michaelpowell.com
To another Matt. Lincoln City striker Matt Rhead is a towering figure at the club. At 6ft 4 he's a formidable presence on the pitch. At the Burnley match his physical game produced much tussling with Joey Barton whom some fans accused of trying to get Matt Rhead sent off. For another Times interview I photographed him with ex Chelsea and Ireland player Tony Cascarino. Tony is a regular writer for The Times Sport and found he had much in common with Matt. At 6ft 3 Tony was similarly talented in the air on the end of a long ball. Tony to Matt: "Are you sleeping OK?". Matt to Tony: "I've got two kids so I haven't slept for years!". Matt on playing football for a living: "What's not to love? It's not a job, it's a hobby. I'm getting paid. Ridiculous". I took various shots of them around historic uptown Lincoln and chatting in the Wig & Mitre on Steep Hill. Here they are outside Lincoln Cathedral (lit by some serious off-camera flash).
And so to the Emirates stadium. I spotted this cheeky decoration of the Lincoln Imp on Holloway Road just before the match.


©Michael Powell 2017 / michaelpowell.com
And finally, here's my view of the match. Pity about the result but what a magnificent journey by Lincoln City.


©Michael Powell 2017 / michaelpowell.com